About the Book
About the Book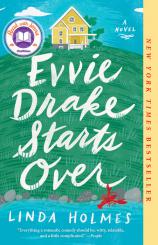 A heartfelt debut about the unlikely relationship between a young woman who's lost her husband and a major league pitcher who's lost his game.
In a sleepy seaside town in Maine, recently widowed Eveleth "Evvie" Drake rarely leaves her large, painfully empty house nearly a year after her husband's death in a car crash. Everyone in town, even her best friend, Andy, thinks grief keeps her locked inside, and Evvie doesn't correct them.
Meanwhile, in New York City, Dean Tenney, former Major League pitcher and Andy's childhood best friend, is wrestling with what miserable athletes living out their worst nightmares call the "yips": he can't throw straight anymore, and, even worse, he can't figure out why. As the media storm heats up, an invitation from Andy to stay in Maine seems like the perfect chance to hit the reset button on Dean's future.
When he moves into an apartment at the back of Evvie's house, the two make a deal: Dean won't ask about Evvie's late husband, and Evvie won't ask about Dean's baseball career. Rules, though, have a funny way of being broken --- and what starts as an unexpected friendship soon turns into something more. To move forward, Evvie and Dean will have to reckon with their pasts --- the friendships they've damaged, the secrets they've kept. But in life, as in baseball, there's always a chance --- up until the last out.
A joyful, hilarious and hope-filled debut, EVVIE DRAKE STARTS OVER will have you cheering for the two most unlikely comebacks of the year --- and will leave you wanting more from Linda Holmes.
Evvie Drake Starts Over
by Linda Holmes
Publication Date: June 2, 2020
Genres: Fiction, Humor, Women's Fiction
Paperback: 320 pages
Publisher: Ballantine Books
ISBN-10: 0525619267
ISBN-13: 9780525619260