About the Book
About the Book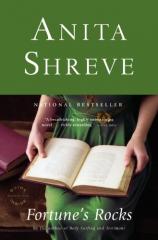 A stunning new work from Anita Shreve, the author of the acclaimed bestsellers The Pilot's Wife and The Weight of Water, Fortune's Rocks is a profound and moving story about unwise love and the choices that transform a life.
On a beach in New Hampshire at the turn of the last century, a young woman is drawn into a rocky, disastrous passage to adulthood. Olympia Biddeford is the only child of a prominent Boston couple--a precocious and well-educated daughter, alive with ideas and flush with the first stirrings of maturity. Her summer at the family's vacation home in Fortune's Rocks is transformed by the arrival of a doctor, a friend of her father's, whose new book about mill-town laborers has caused a sensation. Olympia is captivated by his thinking, his stature, and his drive to do right--even as she is overwhelmed for the first time by irresistible sexual desire. She and the doctor--a married man, a father, and nearly three times her age--come together in an unthinkable, torturous, hopelessly passionate affair. Throwing aside propriety and self-preservation, Olympia plunges forward with cataclysmic results that are the price of straying in an unforgiving era. Olympia is cast out of the world she knows, and Fortune's Rocks is the story of her determination to reinvent her broken life--and claim the one thing she finds she cannot live without.
A meditation on the erotic life of women, an exploration of class prejudices, and most of all a portrayal of the thoughts and actions of an unforgettable young woman, Fortune's Rocks is a masterpiece of narrative drama, beautifully written by one of the most accomplished novelists of our time.
Fortune's Rocks: A Novel
by Anita Shreve
Publication Date: January 2, 2001
Genres: Fiction
Paperback: 480 pages
Publisher: Back Bay Books
ISBN-10: 0316678104
ISBN-13: 9780316678100