About the Book
About the Book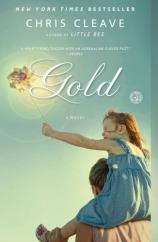 The latest novel from Chris Cleave --- the award-winning and international #1 bestselling author of LITTLE BEE --- is "a heartstring-tugger with an adrenaline-fueled plot" (People) that asks: how much are we willing to sacrifice for the people we love?
An instant New York Times bestseller in hardcover and Martha Stewart Living, USA TODAY, and Newsweek/Daily Beast book club pick, GOLD is a "brilliantly plotted, nail-biting, and emotional tale that dramatizes the anguish and triumphs of ambition and sacrifice, fame and heartbreak" (Booklist, starred review).
If your dreams pull you in one direction and your heart in another, which should you follow? This is the question that haunts Kate Meadows, a world champion athlete whose eight-year-old daughter Sophie is battling a recurrence of childhood leukemia just as Kate is about to compete for her last chance at an Olympic gold medal. For years, Kate has sacrificed everything for her family and watched her best friend and closest rival, Zoe Castle, conquer the world stage. Kate has never won gold. With her child facing a life-threatening illness, the stakes are higher than ever. How can she do what is right for her daughter without abandoning all of her dreams?
In glorious, elegant prose, Chris Cleave examines the choices we make when lives are at stake and everything is on the line.
Gold
by Chris Cleave
Publication Date: April 30, 2013
Genres: Fiction
Paperback: 384 pages
Publisher: Simon & Schuster
ISBN-10: 145167273X
ISBN-13: 9781451672732