About the Book
About the Book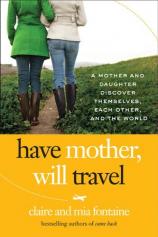 In their bestselling memoir, COME BACK readers were moved and inspired by the story of Mia Fontaine's harrowing drug addiction and her mother, Claire's, desperate and ultimately successful attempts to save her. Now, it is a decade later, and Claire and Mia, each facing a defining moment in their lives, are determined to transform themselves and their relationship again.
At fifty-one, Claire wants to shed her identity as her daughter's savior. Mia, twenty-five, needs to grow beyond her role as recovery's poster child and learn to navigate the world. To accomplish their goals, the pair embarks on a six-month, around-the-world adventure, hoping the trip with help them evolve as women, remember to live intentionally, and bring them together as friends.
An amazing journey awaits: a twenty-city twelve-country tour that will include mishaps, mayhem, laughter, and unexpected joys, from a passport-eating elephant to a calamitous camel ride around the pyramids. As they examine the mother/daughter relationship in other cultures, Mia comes to know her mother as Claire has always known Mia—as all mothers know their daughters: better than anyone else, and often better than themselves. At the end of the journey, each returns with a deepened sense of who they are and where they want to go—and both joyously embrace the profound friendship they have discovered and the abiding love they share.
Told in alternating voices, HAVE MOTHER, WILL TRAVEL is a moving testament to the amazing power of the mother-daughter relationship and shows us the possibilities available in our own lives.