About the Book
About the Book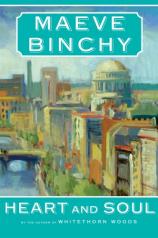 With the warmth, humor, and compassion we have come to expect from her, Maeve Binchy tells a story of family, friends, patients, and staff who are part of a heart clinic in a community caught between the old and the new Ireland.
Dr. Clara Casey has been offered the thankless job of establishing the underfunded clinic and agrees to take it on for a year. She has plenty on her plate already --- two difficult adult daughters and the unwanted attentions of her ex-husband --- but she assembles a wonderfully diverse staff devoted to helping their demanding, often difficult patients. Among them are: an infectiously cheerful nurse; an indispensable office manager who can't quite manage her own life; a Polish girl who's come to Ireland to put a bad love affair firmly in her past and the booming Irish economy in her future; a young doctor who has a special touch with his patients; and a physical therapist who undertakes a very different kind of therapy involving a local priest and a stalker.
Before long Clara and her staff manage to establish the clinic as an essential part of the community. In the end, Clara must decide whether or not to leave a place where lives are saved, courage is rewarded, and humor and optimism triumph over greed and self-pity.
Heart and Soul is Maeve Binchy at her heartwarming best.
Heart and Soul
by Maeve Binchy
Publication Date: February 17, 2009
Genres: Fiction
Hardcover: 432 pages
Publisher: Knopf
ISBN-10: 030726579X
ISBN-13: 9780307265791