About the Book
About the Book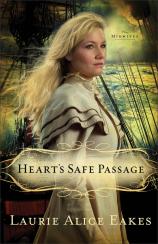 One woman takes the treacherous journey toward redemption…and love.
All Phoebe Lee wants out of life is to practice midwifery in Loudon County, Virginia. But when she refuses to accompany her pregnant sister-in-law to help save her husband from an English prison during the War of 1812, Phoebe finds herself pressed aboard a British privateer crossing the Atlantic under the command of a man with a deadly mission.
Captain Rafe Docherty promises to get Phoebe's brother-in-law out of prison in exchange for information he holds --- information Rafe needs if he is to exact revenge on the man who destroyed his family. However, he does not expect his own heart to be taken captive.
As Rafe struggles against his attraction to Phoebe, she determines to get ashore before her patient goes into labor --- and before her own heart is in danger. But an enemy in their midst threatens to end their plans, the ship, and their very lives.