About the Book
About the Book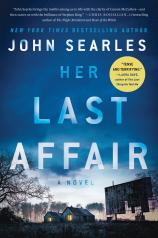 Every marriage has its secrets…
Skyla lives alone in the shadow of the defunct drive-in movie theater that she and her husband ran for nearly 50 years. Ever since Hollis' death in a freak accident the year before, Skyla spends her nights ruminating about the regrets and deceptions in her long marriage. That is, until she rents a cottage on the property to a charming British man, Teddy Cornwell.
A thousand miles away, Linelle is about to turn 50. Bored by her spouse and fired from her job when a questionable photo from her youth surfaces on social media, her only source of joy is an online affair with her very first love, a man she's not seen in nearly 30 years, Teddy Cornwell.
While in New York City, Jeremy, a failed and bitter writer, accepts an assignment to review a new restaurant in Providence. Years ago, Providence was the site of his first great love and first great heartbreak --- and maybe, just maybe, he'll look her up when he's back in town.
Part page-turning thriller, part homage to film noir, and dazzling in its insight into the often desperate desires of the human heart, HER LAST AFFAIR is a tense and atmospheric novel of love lost and found again.
Her Last Affair
by John Searles
Publication Date: March 28, 2023
Paperback: 336 pages
Publisher: Mariner Books
ISBN-10: 0060779675
ISBN-13: 9780060779672