About the Book
About the Book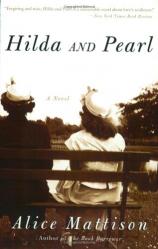 Frances Levenson is an only child living in McCarthy-era Brooklyn. Her mother Hilda and her aunt Pearl seem as if they have always been old friends-the closeness that joins them together seems impenetrable. In Frances's lonely world of preadolescent fears and betrayal, the trust between the two women is unquestioned.
But when she finds a pair of baby shoes hidden in her mother Hilda's bureau drawer, she begins to unravel a secret involving her parents, her aunt Pearl and her uncle Mike. The questions begin: Why did Hilda distractedly refer to a "first pregnancy" one day? Isn't Frances her only child? Whose scuffed baby shoes are they? Why do her father and uncle argue so much when he and Pearl come to visit?
In Hilda and Pearl, Alice Mattison creates a story that is gripping at every turn, one whose setting is so familiar that its inherent tragedy touches deeply. She tells the universal story of friendship-its hesitant beginnings, tentative advances, and disheartening setbacks-with quiet sensitivity and understanding. Both the story of a young girl confused by her changing world and the unfolding past of her mother and aunt, Hilda and Pearl resonates deeply, revealing in beautiful, clear language the complexities of friendship and loss.
Hilda and Pearl
by Alice Mattison
Publication Date: October 2, 2001
Paperback: 304 pages
Publisher: Harper Perennial
ISBN-10: 0060936932
ISBN-13: 9780060936938