About the Book
About the Book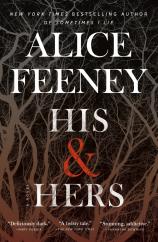 There are two sides to every story: yours and mine, ours and theirs, his and hers. Which means someone is always lying.
When a woman is murdered in Blackdown, a quintessentially British village, newsreader Anna Andrews is reluctant to cover the case. Detective Jack Harper is suspicious of her involvement, until he becomes a suspect in his own murder investigation.
Someone isn't telling the truth, and some secrets are worth killing to keep.
HIS & HERS is a twisty and smart psychological thriller --- a gripping tale of suspense, told by expertly drawn narrators that will keep readers guessing until the very end.
His & Hers
by Alice Feeney
Publication Date: March 30, 2021
Paperback: 320 pages
Publisher: Flatiron Books
ISBN-10: 1250266092
ISBN-13: 9781250266095