Excerpt
Excerpt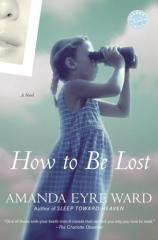 It was a long night, and everybody wanted bourbon. When my shift was over, even I wanted bourbon, instead of my usual Scotch. Peggy poured me a stiff one. "I am dreading tomorrow," I told her.
"Why?"
"I have to tell my mother I'm not coming home for Christmas. She's going to flip."
Peggy sat down on her stool. She had removed every bit of her eyebrows, and drawn thin lines. "Why not?" she said.
"What?"
"Why aren't you going home?" said Peggy. She poured herself a glass of bourbon.
"Oh, it's a long story," I said. "For one thing, I'm an adult, you know? I can't go flying home to New York for every holiday like I'm in college or something."
"I never went to college," Peggy said, dreamily.
"And my family…well, it's a bit fucked up, is the thing," I said.
"I wonder," said Peggy.
"What?"
Peggy sipped her drink, and looked through the enormous windows at the sparkling city below. "I wonder who I would be," she said, "if I had gone to college."
"I went to college," I said, "and I'm still here."
Peggy nodded. "But you're you," she said.
On the drive home, I fantasized about my Christmas alone. I would buy a little tree for my apartment and decorate it with lights. I could spend the day at the movies, or at the Napoleon House, eating a muffaleta sandwich and then slowly drinking my way through a bottle of house red. Winnie had already invited me over for turkey, and I could watch all the kids at her house open presents. Or I could work on Christmas, and make a bundle. Jimbo paid double on holidays.
I wouldn't have to hear it from my sister Madeline and her investment banker husband, Ron. And the Christmas party. My mother insisted on keeping up the Christmas party tradition, making us don taffeta dresses, hiring the bartender from the Liquor Barn. She made the same meatballs, a little too sweet, and the cheese ball. The cheese ball! There must have been a time when an enormous mass of orange and pink cheese covered with nuts and parsley was fashionable, and my mother has not moved past that time. My mother, who was a model in the sixties, who loved fondue, who made cheese balls and laughed so brightly it made me want to cry.
Last year, I wore the costume and deflected questions about my career. ("Just tell them you're still playing piano," my mother had said, "I beg of you.") I drank too much wine, listened to my brother-in-law's investment advice, and did not argue with Madeline.
I went to sleep before making a scene, but in the middle of the night, I woke up. The guests were gone, and the condo was silent. Next to me, my sister breathed slowly. Strands of hair clung to her flushed cheeks, and she smelled of face cream. I looked at her, the curve of her nose, her thin lips. Her eyelashes, clean of mascara, were pale, and her skin was lightly freckled. In many ways, she was a stranger to me now: an Upper East Side wife, nervous and easily wounded. And yet, in the glow of the streetlamp outside the bedroom, she was the same girl who had once told me You and me are our family, her eyes searching mine for a promise. I touched her cheek with my fingers, and she stirred, furrowed her brow, but did not wake.
Our room was on the third floor of my mother's condo, and I went downstairs, past my mother's bedroom and the den, where Ron slept on the pullout couch. (For the first year of their marriage, Madeline had slept with him on the uncomfortable couch at Christmastime, but now she came upstairs to sleep next to me.) I had hoped to find some leftover meatballs, or to make a ham sandwich with the Harrington's maple ham and the little slices of rye bread. I made my way to the kitchen, but as I stepped carefully to avoid waking Ron, I heard something.
I turned toward the sound, and closed my eyes. It was muffled, a sort of breathing. For a moment, I felt a wave of fear, thinking it was a prowler, a robber, murderer, or rapist, but then I remembered I was in suburban New York, and not New Orleans, and my mother's condo complex had a guardhouse. I was wearing wool socks and my Christmas nightgown.
My eyes adjusted to the light. In the kitchen, by the sliding glass door that led to the third-story deck, I saw a figure: my mother. "Mom?" I said.
She looked up, and I could see she was crying. "Mom? What is it?"
"Nothing," she said. She blinked quickly and ran the sleeve of her bathrobe across her eyes. By the time I reached her-a few seconds-she was composed. "I was just thinking about Christmas," she said, a false edge of cheer lining her voice. She clutched the picture in her hands. The blurry one, taken on a fall morning a lifetime ago when we had covered Ellie in leaves.
"Oh, Mom," I said.
"No," she said. "I won't.."
"Caroline," said my mother, her voice grave, "we are talking about Christmas, and only Christmas."
"Mom, it's OK to miss her."
"I hope I get a cashmere sweater," said my mother.
"Mom, we have to talk about this," I said. "She's gone. It's not your fault."
"And maybe some of those cute fur mittens."
From my mother's lap, where she remained trapped in a black-and-white picture, my lost sister looked out at us, laughing.
How to Be Lost
by by Amanda Eyre Ward
paperback: 320 pages
Publisher: Ballantine Books
ISBN-10: 0345483170
ISBN-13: 9780345483171