About the Book
About the Book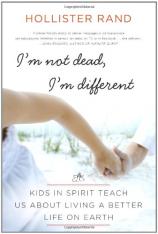 In I'm Not Dead, I'm Different, psychic medium Hollister Rand addresses some of life's most difficult subjects, including addiction, suicide, abortion, and murder, from the perspective of the young in spirit. No one finds death more inexplicable than a parent who has lost a child, thus no group of spirits is more motivated to make sense of it all for those they've left behind than the young ones. These spirits clearly want to heal broken hearts and change our views of life and death, and Rand has the unique ability to help educate others about their important messages.
Young spirits also discuss the different ways relationships on both sides can be mended, and how the inter-generational cycle of abuse and addiction can be stopped once and for all. They introduce us to the concept of 'joy guides' --- miscarried and aborted children who actually help those they've left behind move forward.
The wisdom of these kids in spirit far surpasses their years on earth, and their messages reach out to touch anyone who has grappled with loss, grief, disappointment, or anger at injustice. Through personal encounters with the spirits, Hollister Rand shares their wisdom, humor, and grace, sharing how life on earth might be healed and bettered by their insights. The kids' perspective on life is nothing short of transformational, making challenging topics a little easier to understand and embrace.
Each chapter and subject is broken down into five parts:
SpiritTweets: are brief but thought-provoking quotes from the mouths of young people in spirit. In the same way that kids on earth are enjoying new ways to stay in touch with their friends and loved ones at all times, kids in spirit are frequently finding ways to stay connected with us, too. These sudden and often surprising messages are the spiritual equivalent of texting or twittering; however, spirit messages tend to be packed with a lot more meaning than earthly ones. A SpiritTweet, as presented in this book, can be a reminder to look at everyday life from a more heavenly perspective.
SpiritThoughts: provide an expanded discussion of the chapter's subject, including observations, thoughts, and stories about the spirits and people Hollister has met. This segment also offers insight into how her personal life and work as a medium intersect and inform one another.
SpiritAnswers: provide the complete 411 on FAQs, addressing the most common questions Hollister is asked on her many travels around the world.
SpiritSummary: is a pithy synopsis of the chapter's main points. Some will come to this book looking for specific words of comfort; others for a more general understanding. Some will read it from cover to cover; others will home in on the answers to just their most pressing questions. Many will even revisit it later to be reminded of the words that spoke to them most profoundly. These summaries are designed to help guide your reading so it is a truly a healing and empowering experience.
I'm Not Dead, I'm Different: Kids in Spirit Teach Us About Living a Better Life on Earth
by Hollister Rand
Publication Date: April 19, 2011
Paperback: 288 pages
Publisher: It Books
ISBN-10: 0061959065
ISBN-13: 9780061959066