About the Book
About the Book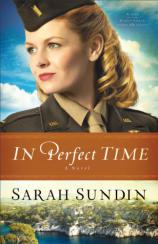 Two hearts are about to learn the rhythm of love
Bold, sophisticated and coy, Army Air Force flight nurse Lt. Kay Jobson collects hearts wherever she flies, leaving men pining in airfields all across Europe. So how can ruggedly handsome C-47 pilot Lt. Roger Cooper be all but immune to her considerable charms? In fact, he seems to do everything he can to avoid her.
Still, as they cross the skies between Italy and southern France, evacuating the wounded and delivering paratroopers and supplies, every beat of their hearts draws them closer. Can they overcome the fears and misunderstandings of the past in order to take hold of the future?
Sarah Sundin seamlessly weaves together emotion, action and sweet romance into a tale that transcends time and calls us to believe in the power of love.
In Perfect Time: Wings of the Nightingale, Book 3
by Sarah Sundin
Publication Date: August 5, 2014
Paperback: 416 pages
Publisher: Revell
ISBN-10: 0800720830
ISBN-13: 9780800720834