About the Book
About the Book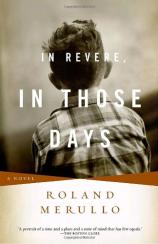 Roland Merullo's powerful novel eloquently explores how, in the aftermath of a devastating tragedy, a young boy, already disadvantaged by place and circumstance, can grow into a happy, successful man. Narrated by the protagonist, Anthony Benedetto, In Revere, In Those Days is not just Anthony's intensely personal memoir of his coming-of-age but also a larger portrait of a changing America.
Born in Revere, Massachusetts in the 1950s, Anthony, or "Tonio," as he is known to his family and friends, is a member of one of the many tightly-knit Italian-American immigrant families on the block struggling to get by. His father works in a factory making airplane parts and his mother is a former nurse who wants Tonio to have a better life than Revere can provide. At age eleven, it seems as though Tonio, a good student and a good Catholic boy, may be able to realize his parents' hopes for him. But Tonio's life takes an abrupt turn when his parents are tragically killed in an airplane crash. Sustained and borne up by the unwavering love and devotion of his paternal grandparents, his Uncle Peter, and the rest of his large family, Tonio slowly but surely discovers a way out of sorrow and, ultimately, a way out of Revere.
In Revere, In Those Days is a heartfelt story of deep and abiding family love, of personal loss, and of individual redemption. The passage of time and Tonio's geographical distance from Revere lends an objectivity to his narrative, but his love for his family and his unapologetic pride in their traditional first-generation Italian-American values shines through each word. And yet, it is this very way of life that Tonio must leave behind in order to find happiness. Tonio's life will be forever changed by the early loss of his parents, but his story is tinged with an even greater sense of a lost way of life: the sacrifice Americans make to achieve the American dream.
In Revere, In Those Days
by Roland Merullo
Publication Date: October 14, 2003
Paperback: 320 pages
Publisher: Vintage
ISBN-10: 0375714057
ISBN-13: 9780375714054