About the Book
About the Book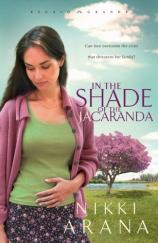 When a couple faces a life-shattering situation, can love, commitment, and faith keep their family together?
After Angelica Amante defied her wealthy parents' wishes and married an illiterate Mexican stable hand, Antonio Perez, she thought their love had overcome the biggest hurdle they would ever face. But just as Angelica throws herself into her work as a defense attorney, she discovers she is pregnant --- and her world is turned upside down.
As her husband struggles to save his fledgling landscape business, Angelica must juggle the challenges of a demanding boss and an unexpected pregnancy. Then their doctor becomes concerned about the health of their unborn child, and her relationship with her parents becomes troubled. Soon both Angelica and Antonio are confronted with decisions that shake them to their core. Will their faith in God and their love for each other sustain them --- even when it seems their dreams are slipping away?
In the Shade of the Jacaranda: Regalo Grande, Book Two
by Nikki Arana