About the Book
About the Book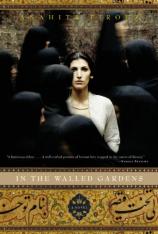 Sweeping us into scenes rich with drama, conjuring a world on the brink of destruction-Iran before the revolution-this haunting and passionate novel tells the story of a doomed love affair.
Mahastee grew up in the privileged inner circles of Teheran's aristocracy. Reza, whose father once worked for Mahastee's family, has become a revolutionary leading clandestine meetings in the city's shadowy underworld. When they meet again for the first time in twenty years, their volatile love takes on new and threatening implications as the political situation in Teheran becomes increasingly explosive.
Anahita Firouz belongs to the last generation in Iran who witnessed an entire way of life fall apart. In the Walled Gardens is her evocation of that complex and glittering world-a compelling portrait of a now vanished era, and an unforgettable, revolutionary love story.
In the Walled Gardens
by Anahita Firouz
Publication Date: August 11, 2003
Genres: Fiction
Paperback: 368 pages
Publisher: Back Bay Books
ISBN-10: 0316169013
ISBN-13: 9780316169011