About the Book
About the Book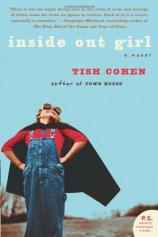 Inside Out Girl is the story of Rachel, a single, working mother of two, who begins dating a man with a learning disabled daughter, much to her children's chagrin.
Rachel's life is anything but calm. She's a single mother of two and publisher of a sinking Parenting magazine left to her by her father. Although she tries to be easy going, she's constantly aware of the statistical dangers lurking around every corner just waiting to damage herself and her children. So it is out of character to say the least when she pulls over on the side of a busy highway to help a man and his quirky daughter change their tire.
The quirky young girl, Olivia, actually has an NLD (non-verbal learning disorder) and is the most made-fun of child in Rachel's children's school, know as the "inside out girl" since she often shows up to school with her clothes on wrong. So it is to her son and daughter's dismay when Rachel begins dating the inside out girl's widowed father, Len. But when Len learns he has a brain tumor and short time left to live, he's desperate to find a suitable parent for his wild, special, and accident-prone little girl. Along the way, Rachel unravels a mystery from her own past and learns to love and respect every aspect of her children's lives, including her daughter's crush on the girl next door.
Inside Out Girl
by Tish Cohen
Publication Date: August 1, 2008
Genres: Fiction
Paperback: 317 pages
Publisher: Harper Perennial
ISBN-10: 0061452955
ISBN-13: 9780061452956