About the Book
About the Book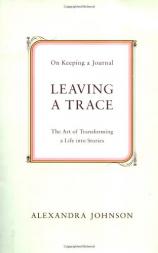 Leaving a Trace, Alexandra Johnson's inspiring new book, reinvents journal keeping, showing readers how to leave a lasting piece of work about their lives for themselves or others. Whether you've kept journals for years or quit after only a few pages, Leaving a Trace will help you start and keep journals successfully—as well as transform your material into longer projects or creative work.
Identifying ten key patterns hidden in all journals, Johnson offers ways to find the story underneath the surface of recorded fact. She will show you how to play detective to your days, find the "through line" in your life, and frame those stories for journals, family chronicles, or memoirs. Chapters brim with tips and techniques, including five ways to build a narrative. She also shows how, by giving the journal a specific purpose, seasoned and beginning journal keepers alike can move past self-consciousness to productivity.
Woven throughout the narrative are inspiring stories from famous writers and a cross section of private journal keepers that offer invaluable clues into how journals can help you weather a crisis or develop its contents into a significant, and public, piece of work.
An inspirational and practical guide to starting and keeping a diary—and transforming it into something permanent—Leaving a Trace will be to journal writers what Bird by Bird and The Artist's Way are to fiction writers.
Leaving A Trace
by Alexandra Johnson
Publication Date: March 6, 2013
Hardcover: 256 pages
Publisher: Little, Brown
ISBN-10: 0316120200
ISBN-13: 9780316120203