About the Book
About the Book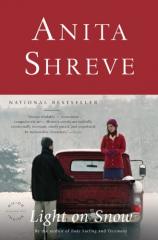 From the bestselling author of The Pilot's Wife comes a tender and surprising novel about love and its consequences.
Snowshoeing over crusted snow in the woods near their home, twelve-year-old Nicky Dillon and her father come upon something shocking. There, in the pristine winter scene, an abandoned baby wails, its survival made possible only by the coincidence of their having chosen this path for their late afternoon outing.
In the days and weeks that follow, Nicky glimpses corners of the adult world that she never dreamed existed. As she follows the fate of the baby girl and talks with the police officers assigned to investigate, Nicky for the first time asks questions about her life's strange shape. Why has her father moved them to this isolated New England farmhouse? How can they come to terms with the tragedy they left behind? And how can she bridge the chasm between his needs and her own growing sense of the world? Nicky's ideas about life are thrown into stark relief by the arrival of a young woman haunted by her own terrible choices. Together, Nicky, her father, and this woman must work their way through a thicket of decisions, each one seeming to carry equal possibilities of heartbreak or redemption.
With the glorious prose and emotional resonance that have won readers' hearts all over the world, Anita Shreve delivers her deepest and most powerful novel yet-a mesmerizing story of the secrets we keep and the secrets we unearth, and the power of forgiveness to mend even the most battered souls.
Light on Snow
by Anita Shreve
Publication Date: September 12, 2005
Genres: Fiction
Paperback: 336 pages
Publisher: Back Bay Books
ISBN-10: 0316010677
ISBN-13: 9780316010672