About the Book
About the Book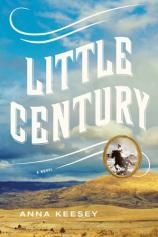 In a resonant voice that calls to mind Willa Cather's Midwest classics and Denis Johnson's Train Dreams, Anna Keesey's Little Century takes us to a haunting frontier landscape, evoking its characters' emotional landscapes as well in finely honed prose.
Near the turn of the last century, eighteen-year-old Esther Chambers travels west alone, leaving behind the vibrant world of Chicago after the death of her mother. In search of her only living relative, Esther journeys to the lawless frontier town of Century, Oregon, where she's met by her distant cousin, a laconic cattle rancher named Ferris Pickett. Plotting to expand his already impressive ranch, Pick helps Esther establish herself as a homesteader by a small lake called Half-a-Mind.
The tranquil acreage belies a bloody range war in which ranchers vie for land and water. Esther is soon forced to choose between Pick and Ben Cruff, a gentle sheepherder who has become the sworn enemy of the cattle ranchers.
Charting both the exuberance and the violent greed of the American quest for expansion, Little Century maps our country's defining spirit through the eyes of a young female survivor. We hope that the following guide will enhance your reading group's experience of this moving portrait of history and humanity.
Little Century
by Anna Keesey
Publication Date: June 5, 2012
Genres: Historical Fiction
Hardcover: 336 pages
Publisher: Farrar, Straus and Giroux
ISBN-10: 0374192049
ISBN-13: 9780374192044