About the Book
About the Book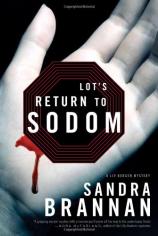 In this second book in the eponymous series, gutsy, sharp-witted Liv Bergen vows to clear her brother's name as a murder suspect. Her way is hindered, though, by half a million bikers and gawkers who have turned the Black Hills of South Dakota into a modern-day Sodom in the dog days of summer.
When Liv witnesses a second homicide, she attracts the uninvited attentions of Mully, the menacing leader of biker gang Lucifer's Lot. Their cat-and-mouse game puts Liv once again in the path of FBI agent Streeter Pierce, who's gone undercover to find the perp in the first murder --- plus a shadow criminal called the Crooked Man. Liv taps every ounce of brains and brawn she has to avoid becoming the killer's next victim, and the intriguing Streeter shoots to kill.
Readers are eager to read Sandra Brannan's second book, Lot's Return to Sodom, after whetting appetites with the first in the Liv Bergen Mystery series, In the Belly of Jonah, an engrossing story with a memorable protagonist.
Lot's Return to Sodom: A Liv Bergen Mystery
by Sandra Brannan
Publication Date: June 1, 2011
Paperback: 288 pages
Publisher: Greenleaf Book Group Press
ISBN-10: 1608321193
ISBN-13: 9781608321193