About the Book
About the Book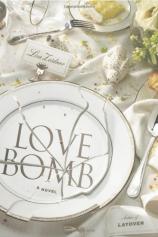 Praised for its "edginess and power" as well as its "humor, wisdom, and poignancy," Lisa Zeidner's writing always delivers a fresh perspective on life's challenges. In Love Bomb, she detonates a provocative, wickedly funny tale about romance versus reality and the conundrums of marriage and parenthood.
In quaint Haddonfield, New Jersey, Tess Nathanson is about to marry Gabe Billips in her childhood home. The guest list includes crying babies, disgruntled exes, moody psychiatrists, celebrity actors, and Africans befriended through Tess and Gabe's work for Doctors Without Borders. But the most troubling guest was never on the list at all: a woman in a wedding dress and a gas mask, armed with a rifle, a bomb trigger strapped to her arm. Who has offended this nuptial nutcase, and how? Does she seek revenge against the twice-divorced philanderer? Or is her agenda political—against the army general? Or the polygamous Muslim from Mali? Tess's mother tenderly tries to bond with the "terrorist of love," but the crisis only escalates until the hostage taker's real motives are unveiled.
The questions and discussion topics that follow are designed to enhance your reading of Lisa Zeidner's Love Bomb. We hope they will enrich your experience of this gutsy, inventive novel.