About the Book
About the Book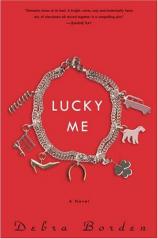 Lucky Me is that rare book that captures --- in the vein of Elinor Lipman and Elizabeth Berg --- what it really means to be a modern woman.
Julie Berman seems to have it all: a beautiful home in suburban New Jersey, a loving husband, a budding career as a freelance journalist, and two great kids. To the outside world, her life is perfect --- little do they know that behind the façade, Julie is beginning to feel like her world is falling apart.
Among her worries is a nagging fear that she's turning into her mother --- just as neurotic, just as crazy, and just as consumed by appearances. Then there's the handsome, charming, and quite single editor at the local newspaper who has definitely taken a liking to her . . . which wouldn't be a problem if he wasn't so tempting. Add to that her moody, monosyllabic teenage son, who may or may not be having sex with a new girlfriend (whom Julie's not sure she approves of, sex or not). But the final blow to her sanity comes in the form of a phone call from her daughter, who informs Julie of her plans to run off with her boyfriend . . . who's also her college professor.
Lucky Me is a journey into the year when everything seems to come to a head in Julie's life --- and when she realizes that there are some things you can't control, especially the people you love. Wise, irreverent, tender, and funny, Lucky Me is for every woman who has ever felt --- despite her most valiant efforts --- less than perfect.
Lucky Me: A Novel
by Debra Borden
Publication Date: July 12, 2005
Hardcover: 288 pages
Publisher: Shaye Areheart Books
ISBN-10: 1400082218
ISBN-13: 9781400082216