Excerpt
Excerpt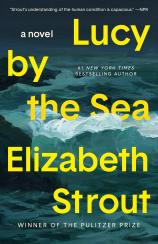 One
i
Like many others, I did not see it coming.
But William is a scientist, and he saw it coming; he saw it sooner than I did, is what I mean.
William is my first husband; we were married for twenty years and we have been divorced for about that long as well. We are friendly, I would see him intermittently; we both were living in New York City, where we came when we first married. But because my (second) husband had died and his (third) wife had left him, I had seen him more this past year.
About the time his third wife left him, William found out that he had a half-sister in Maine; he found it out on an ancestry website. He had always thought he was an only child, so this was a tremendous surprise for him, and he asked me to go up to Maine for two days with him to find her, and we did, but the woman—her name is Lois Bubar— Well, I met her but she did not want to meet William, and this made him feel very terrible. Also, on that trip to Maine we found out things about William's mother that absolutely dismayed him. They dismayed me as well.
His mother had come from unbelievable poverty, it turned out, even worse than the circumstances I had come from.
The point is that two months after our little trip to Maine, William asked me to go to Grand Cayman with him, which is where we had gone with his mother, Catherine, many, many years before, and when our girls were small we would go there with them and with her too. The day he came over to my apartment to ask me to go with him to Grand Cayman, he had shaved off his huge mustache and also cut his full white hair very short—and only later did I realize this must have been a result of Lois Bubar's not wanting to see him plus everything he had learned about his mother. He was seventy-one years old then, but he, kind of, I think, must have been plunged into some sort of midlife crisis, or older man crisis, with the loss of his much younger wife moving out and taking their ten-year-old daughter, and then his half-sister's not wanting to see him and his finding out that his mother had not been who he'd thought she had been.
So I did that: I went to Grand Cayman with him for three days in early October.
And it was odd, but nice. We had separate rooms, and we were kind to each other. William seemed more reticent than usual, and it was strange for me to see him without his mustache. But there were times when he threw his head back and really laughed. There was a politeness to us that was consistent; so it was a little strange, but nice.
But when we got back to New York, I missed him. And I missed David, my second husband, who had died.
I really missed them both, David especially. My apartment was so quiet!
•
I am a novelist and I had a book coming out that fall, and so after our trip to Grand Cayman I had a great deal of traveling to do around the country and I did it; this was in late October. I was also scheduled to go to Italy and Germany in the beginning of March, but in early December—it was kind of odd—I just decided I was not going to go to those places. I never cancel book tours and the publishers were not happy, but I was not going to go. As March approached someone said, "Good thing you didn't go to Italy, they're having that virus." And that's when I noticed it. I think that was the first time. I did not really think about it ever coming to New York.
But William did.
ii
It turned out that the first week in March, William had called our daughters, Chrissy and Becka, and asked—begged—them to leave the city; they both lived in Brooklyn. "And don't tell your mother yet, but please do this. I will deal with her." And so they hadn't told me. Which is interesting because I feel that I am close to our girls, I would have said closer to them than William is. But they listened to him. Chrissy's husband, Michael, who is in finance, really listened, and he and Chrissy made arrangements to go to Connecticut to stay in the house of Michael's parents—his parents were in Florida, so Chrissy and Michael could stay in their house—but Becka balked, saying that her husband did not want to leave the city. Both girls said they wanted me to know what was going on, and their father said to them, "I'll take care of your mother, I promise, but get out of the city now."
A week later William called me and told me this, and I was not frightened but I was confused. "They're actually leaving?" I said, meaning Chrissy and Michael, and William said yes. "Everyone is going to be working from home soon," he said, and again I did not really understand it. He added, "Michael has asthma, so he should be especially careful."
I said, "He doesn't have terrible asthma, though," and William paused and then said, "Okay, Lucy."
Then he told me that his old friend Jerry had the virus and was on a ventilator. Jerry's wife also had the virus, but she was at home. "Oh Pill, I'm so sorry!" I said, yet I still did not get it, the importance of what was happening.
It's odd how the mind does not take in anything until it can.
The next day William called and said that Jerry had died. "Lucy, let me get you out of this city. You're not young, and you're scrawny and you never exercise. You're at risk. So let me pick you up and we'll go." He added, "Just for a few weeks."
"But what about Jerry's funeral?" I asked.
William said, "There will be no funeral, Lucy. We're in a—a mess."
"Where out of the city?" I asked.
"Out of the city," he said.
I told him I had appointments, I was supposed to see my accountant, and I was supposed to get my hair done. William said I should call my accountant and get an earlier appointment and to cancel my hair and to be ready to leave with him in two days.
I could not believe that Jerry had died. I mean that sincerely, I could not believe it. I had not seen Jerry in many years, and maybe that was why I was having trouble. But that Jerry had died: I could not get it into my head. He was one of the first people to die of the virus in New York City; I did not know that at the time.
But I got an earlier appointment with my accountant, and also for my hair, and when I went to my accountant's office I took the small elevator up: It always stops at every floor, he is on the fifteenth floor, and people squeeze in holding their paper coffee cups and then look down at their shoes until they get off, floor by floor. My accountant is a large, burly man, my age exactly, and we have always loved each other; it may sound a little strange, because we do not socialize, but he is one of my favorite people in a way, he has been so deeply kind to me over these many years. When I walked into his office he said "Safe distance," waving to me, and so I understood then that we would not hug as we always do. He joked about the virus, but I could tell he was nervous about it. When we were through with our meeting he said, "Why don't you go down the freight elevator, I can show you where it is. You'll be alone on it." I was surprised and I said, Oh no, there was no need for that. He waited a moment, and then he said, "Okay. Bye-bye, Lucy B," blowing me kisses, and I went down in the regular elevator to the street. "See you at the end of the year," I said to him; I remember saying that. And then I took the subway downtown to get my hair done.
I have never liked the woman who colors my hair—I had adored the first woman who colored it for years, but she moved to California—and the woman who took over, I just never liked her. And I did not like her that day. She was young and had a small child, and a new boyfriend, and I understood that day that she did not like her child, she was cold, and I thought: I am never coming back to you.
I do remember thinking that.
When I got home to my building I met a man in the elevator who said he had just gone to the gym on the second floor but the gym was closed. He seemed surprised about this. "Because of the virus," he said.
•
William called me that night and said, "Lucy, I'm picking you up tomorrow morning and we're leaving."
It was a strange thing; I mean that I was not alarmed but I was still kind of surprised at his insistence. "But where are we going?" I asked.
And he said, "The coast of Maine."
"Maine?" I said. "Are you kidding? We're going back to Maine?"
"I'll explain," he said. "Just please get yourself ready."
Lucy by the Sea
by by Elizabeth Strout
Genres: Fiction
paperback: 304 pages
Publisher: Random House Trade Paperbacks
ISBN-10: 0593446089
ISBN-13: 9780593446089