About the Book
About the Book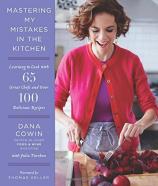 An uproarious, inspiring cookbook from the longtime editor-in-chief of Food & Wine magazine, in which the first lady of food spills the secret of her culinary ineptitude, while learning --- finally --- to cook, side-by-side with some of the greatest chefs working today, from David Chang to Alice Waters to Thomas Keller.
For years, Dana Cowin kept a dark secret: From meat to veggies, broiling to baking, breakfast to dinner, she ruined literally every kind of dish she attempted. Now, in this cookbook confessional, the vaunted "first lady of food" finally comes clean about her many meal mishaps. With the help of friends --- all-star chefs, including April Bloomfield, Alex Guarnaschelli, and Tom Colicchio, among many others --- Cowin takes on 100 recipes dear to her heart. Ideal dishes for the home cook, each recipe has a high "yum" factor, a few key ingredients, and a simple trick that makes them special. With every dish, she attains a critical new skill, learning invaluable lessons along the way from the hero chefs who help her discover exactly where she goes wrong.
Hilarious and heartwarming, encouraging and instructional, MASTERING MY MISTAKES IN THE KITCHEN showcases Cowin's plentiful cooking mistakes, inspiring anyone who loves a good meal but fears its preparation. Featuring gorgeous full color photography, it is an intimate, hands-on cooking guide from a fellow foodie and amateur home chef, designed to help even the biggest kitchen phobics overcome their reluctance, with delicious results.
Mastering My Mistakes in the Kitchen: Learning to Cook with 65 Great Chefs and Over 100 Delicious Recipes
by Dana Cowin
Publication Date: October 14, 2014
Genres: Cookbooks, Cooking, Nonfiction
Hardcover: 320 pages
Publisher: Ecco
ISBN-10: 0062305905
ISBN-13: 9780062305909