About the Book
About the Book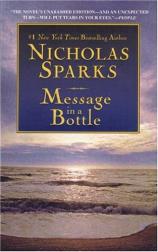 Thrown to the waves, and to fate, the bottle could have ended up anywhere. Instead, it is found just three weeks after it begins its journey. Theresa Osborne, divorced and the mother of a twelve-year-old son, picks it up during a seaside vacation from her job as a Boston newspaper columnist. Inside is a letter that opens with:
My dearest Catherine, I miss you my darling, as I always do, but today is particularly hard because the ocean has been singing to me, and the song is that our life together…
For "Garrett," the man who signs the letter, the message is the only way he knows to express his undying love for a woman he has lost. For Theresa, wary of romance since her husband shattered her trust, the message raises questions that intrigue her. Who are Garrett and Catherine? Where is he now? What is his story?
Challenged by the mystery, and pulled to find Garrett by emotions she does not fully understand, Theresa begins a search that takes her to a sunlit coastal town and an unexpected confrontation. Brought together by chance -- or something more powerful - -Theresa and Garrett are people whose lives are about to touch for a purpose, in a tale that resonates with our deepest hopes for finding that special someone and everlasting love.
Shimmering with suspense and emotional intensity, Message in a Bottle takes readers on a hunt for the truth about a man and his memories, and about both the heart-breaking fragility and enormous strength of love. For those who cherished The Notebook and readers waiting to discover the magic of Nicholas Sparks's storytelling, here is his new, achingly lovely novel of happenstance, desire, and the choices that matter most…
Message in a Bottle
by Nicholas Sparks
Publication Date: January 1, 1999
Genres: Fiction
Mass Market Paperback: 384 pages
Publisher: Vision
ISBN-10: 0446606812
ISBN-13: 9780446606813