About the Book
About the Book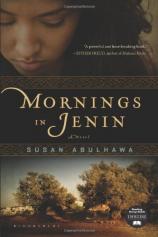 Mornings in Jenin follows four generations of the Abulheja family through upheaval and violence in their homeland. The family has deep roots in Ein Hod, a tranquil village of olive farmers. When Israel declares statehood in 1948, the peace of Ein Hod is shattered forever: The entire community is forced to move to a refugee camp in Jenin. As the young mother Dalia Abulheja guides her sons through the caravan of chaos, an Israeli soldier snatches her baby, Ismael, from her arms. The soldier brings the Palestinian child home to his wife, a Holocaust survivor, founding a family based on a lie: Baby Ismael grows up as David, an Israeli who will unwittingly fight against his own people in wars to come.
In Jenin, the Abulheja family welcomes a daughter, Amal, who loves nothing more than listening to her doting father, Hasan, read Arabic verses. But in the war of 1967, Hasan disappears, Dalia loses her wits, and young Amal barely survives a week hiding in a bomb shelter. Amal must leave Jenin behind in order to fulfill her lost father's wishes for her education. As Israeli-Palestinian tensions reach a crescendo in 1982, Amal loses almost everyone she loves in the Lebanon War. She must raise her newborn daughter, Sara, by herself in America, forever scarred by the loss of her homeland, her family, and her love. Only a visit from an Israeli named David --- Amal's long-lost brother, on a quest for his true identity --- can shake Amal from her stoicism, inspiring a return trip to the Middle East with her daughter. Together, Amal and Sara rediscover a shattered homeland that may never be the same.
Mornings in Jenin unveils the humanity behind one of the most intractable political conflicts of our time, revealing the universal desire for a homeland, community, and safety.
Mornings in Jenin
by Susan Abulhawa
Publication Date: February 2, 2010
Paperback: 352 pages
Publisher: Bloomsbury USA
ISBN-10: 1608190463
ISBN-13: 9781608190461