About the Book
About the Book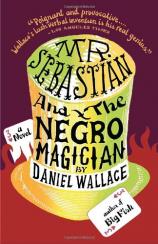 From one of the most imaginative novelists of his generation comes the tale of Henry Walker, a magician with extraordinary powers, extraordinary heartache, and a lifetime of illusions so remarkable you'll not believe your eyes.
It's 1954 when we first meet Henry. Once a world-famous magician, he seems to have lost his touch. As he travels through the South with Jeremiah Musgrove's Chinese Circus, his act draws more laughs than awe. He's a far cry from the spellbinding illusionist he once was, having learned magic from a mysterious gentleman named Mr. Sebastian --- surely the disguised devil himself. After inducting ten-year-old Henry into the world of dark arts --- blood oath and all --- Mr. Sebastian and Henry's beloved sister Hannah suddenly disappear. On these pages you will hear from Henry's circus friends --- Jenny, the Ossified Girl; Rudy, the Strongest Man in the Entire World; and JJ, the Barker --- who will recount Henry's greatest feats, leading you on one of the greatest adventures ever told, with a stunning revelation at the end that exposes the truth about a master of trickery.
The story of Henry's life is not one to read alone. We hope this guide will serve as a pleasant companion while you and your fellow readers travel with him through an intriguing world of love and loss, mystery and magic.
Mr. Sebastian and the Negro Magician
by Daniel Wallace
Publication Date: July 8, 2008
Paperback: 304 pages
Publisher: Anchor
ISBN-10: 0307279111
ISBN-13: 9780307279118