About the Book
About the Book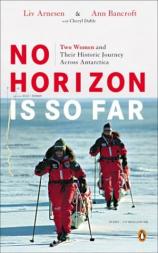 For Liv Arnesen and Ann Bancroft, Antarctica was the ultimate destination, a savagely beautiful landscape and a unique test of character and skill-the defining moment in their adventure careers. No Horizon Is So Far is the true story of Arnesen and Bancroft's inspiration, organization, and hard work to become the first women to cross Antarctica by foot. As former schoolteachers, they considered the expedition to be not only a personal goal but an educational tool, reaching more than three million children through the course of their journey. As women, they made history, challenging gender stereotypes and breaking barriers for future generations. As teammates, they proved to the world, themselves, and each other that no obstacle is too great, no dream ever out of reach.
Inspiring and exciting, No Horizon Is So Far is narrated by both Arnesen and Bancroft, each of whom provides an intimate perspective on the shared joys and frustrations of their 2,000-mile, three-month trek. Whether pitching their mission to doubtful CEOs, coordinating and financing hundreds of pounds of equipment, or finally hoisting their flags at the South Pole, the authors are lively, honest guides. The photos, maps, and detailed equipment lists they include in the book help readers truly grasp the scope of their expedition. In addition, comments from teachers and associates around the world as to how the journey affected their own lives are a testament to Arnesen and Bancroft's success.
And yet, throughout their arduous trek, the authors are forced to redefine what success means to them, and what they'll gamble to achieve it. A desire to beat the odds is at the core of No Horizon Is So Far, as Arnesen and Bancroft trace the roots of why they came to Antarctica to risk frostbite, injury, and death on a daily basis. From their childhood love of adventure to the challenges they overcame as female athletes in a predominantly male field, the authors' passion and drive fill every page and make their expedition's results all the sweeter.