About the Book
About the Book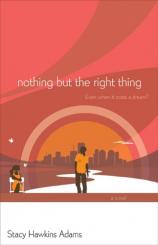 Life seems sweet for Serena McDaniels. She has a handsome husband, a beautiful home, and a job she loves.
But there are two things she can't get out of her mind --- the children she craves and a best friend trapped in an abusive marriage. After two miscarriages already, Serena's not sure her dream of motherhood will ever come true. She can't help her friend, Erika, leave Elliot behind without jeopardizing her own safety. And she watches helplessly as her husband, Micah, struggles for answers to a personal dilemma.
Can Serena trust God to lead her life and the lives of her loved ones --- no matter what?