About the Book
About the Book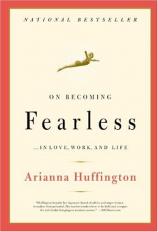 "Fear is universal. It touches everyone --- but it clearly doesn't stop everyone," writes Arianna Huffington in On Becoming Fearless
It's hard to believe that Arianna Huffington --- bestselling author, Internet entrepreneur, journalist, mother, and one-time California gubernatorial candidate --- is not fearless by nature. But as she reveals in On Becoming Fearless, she has learned to overcome the fears that have at every step threatened to impede not only her professional success but also her personal wellbeing.
And in On Becoming Fearless, Arianna shows others how to achieve this same fearlessness in all areas of life --- from body image, aging, and voicing one's opinions to romantic relationships, parenting, and careers. She draws on her own experiences, as well as those of other women both famous and not famous, to illustrate how to be bold from the inside out --- and how conquering fear is crucial to living a full life and to making a difference in the world.
Smart, candid, and inspiring, this book is, as Arianna says, "a road map for achieving fearlessness in every aspect of our lives, a straight-to-the-point manifesto on how to be fearless."
On Becoming Fearless... In Love, Work, and Life
by Arianna Huffington
Publication Date: April 9, 2007
Genres: Self-Help, Women's Studies
Paperback: 240 pages
Publisher: Little, Brown and Company
ISBN-10: 0316166820
ISBN-13: 9780316166829