About the Book
About the Book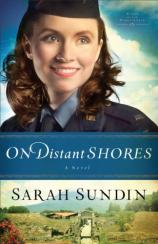 Caught between the war raging around them and the battles within, two souls long for peace --- and a love that remains true.
Lt. Georgiana Taylor has everything she could want. A boyfriend back home, a loving family, and a challenging job as a flight nurse. But in July 1943, Georgie's cozy life gets more complicated when she meets pharmacist Sgt. John Hutchinson.
Hutch resents the lack of respect he gets as a noncommissioned serviceman and hates how the war keeps him from his fiancée. While Georgie and Hutch share a love of the starry night skies over Sicily, their lives back home are falling apart. Can they weather the hurt and betrayal? Or will the pressures of war destroy the fragile connection they've made?
With her signature attention to detail and her talent for bringing characters together, Sarah Sundin weaves an exciting tale of emotion, action and romance that will leave you wanting more.
On Distant Shores: Wings of the Nightingale, Book 2
by Sarah Sundin
Publication Date: August 1, 2013
Paperback: 432 pages
Publisher: Revell
ISBN-10: 0800720822
ISBN-13: 9780800720827