About the Book
About the Book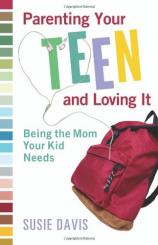 Moms know it's never been tougher to be the parent of a teenager.
Cell phones and Facebook. Slammed doors and mood swings. Somehow, your sweet child changed into a baffling bunch of hormones you barely recognize. You love your teen but worry about being the mom you need to be.
Susie Davis can help. She gives you the information you need to understand where your teen is emotionally, intellectually, physically, and spiritually. With humor and transparency, this seasoned mother of teens answers your big questions, like
How can I be responsible but not overprotective?

What do I say and do to get my teen's attention?

What does my teen need from me most at this stage?

How can I avoid setting unreasonable expectations?

How do I influence without irritating my teen?
Davis's unfailing advice and encouragement will help you be the best mom you can be by empowering you to parent with wisdom.
Parenting Your Teen and Loving It: Being the Mom Your Kid Needs
by Susie Davis