About the Book
About the Book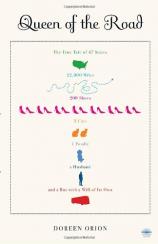 "A Charles Kuralt-Albert Brooks-style romp where they meet up with nudists, robbers and more. Required Reading." -- New York Post
"Beneath its fun and frothy exterior, you'll find in this wild ride across America's highways and byways a lovely portrait of a marriage that treats its ups and downs with humor and grace." -- Elle Magazine
"Eat, Pray, Love --- without the depression --- meets Confessions of a Shopaholic --- without the ditz." -- Denver Magazine
"A charming, insightful and - most important - hilarious book that evokes the best of Bill Bryson and David Sedaris, but spotlights the unique voice of a gifted memoirist." -- Jonathan Kellerman, New York Times Bestselling Novelist.
Doreen and Tim are married psychiatrists with a twist: She's a self-proclaimed Long Island princess, grouchy couch potato, and shoe addict. He's an affable, though driven, outdoorsman. When Tim suggests "chucking it all" to travel cross-country in a converted bus for a year, Doreen asks, "Why can't you be like a normal husband in a midlife crisis and have an affair or buy a Corvette?" But she soon shocks them both, agreeing to set forth with their sixty-pound dog, two querulous cats --- and no agenda --- in a 340-square-foot bus.
Queen of the Road is Doreen's offbeat and romantic tale about refusing to settle, about choosing the unconventional road with all the misadventures it brings (fire, flood, armed robbery and finding themselves in a nudist RV park, to name just a few). The marvelous places they visit and delightful people they encounter have a life-changing effect on all the travelers, as Doreen grows to appreciate the simple life, Tim mellows, and even the pets pull together. Best of all, readers get to go along for the ride through forty-seven states in this often hilarious and always entertaining memoir, in which a boisterous marriage of polar opposites becomes stronger than ever.
Queen of the Road: The True Tale of 47 States, 22,000 Miles, 200 Shoes, 2 Cats, 1 Poodle, a Husband, and a Bus with a Will of Its Own
by Doreen Orion
Publication Date: June 3, 2008
Paperback: 304 pages
Publisher: Broadway
ISBN-10: 0767928539
ISBN-13: 9780767928533