Excerpt
Excerpt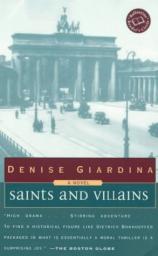 Chapter One
Sabine
WHEN HE WAS SMALL, he was often mistaken for a girl. It was still the fashion in many well-to-do families to dress little boys in gowns of lace and taffeta, and Paula Bonhoeffer considered a skirt a convenience to Fraulein Horn, who must change the diapers. Dietrich's featherylight blond hair, worn long and curling in corkscrews at the ends to frame his round face, added to the effect. And since three of the four youngest children were girls, strangers who admired Christel, Sabine, and Baby Suse in her pram included the fourth Bonhoeffer "daughter" in their praise as well.
"Astonishing," people would say when the children went with Fraulein Horn for a stroll in the Tiergarten, "that two little girls with such different coloring should be twins"--this because Sabine had dark brown hair and black eyes, while Dietrich was fair.
Fraulein Horn would nod as she pushed the pram and say, "After all, they aren't identical twins. This one in fact"--pointing to the blond head--"is a little boy."
"You don't say."
At three he wore lederhosen and his hair was trimmed to the bottom of his ears, so he was no longer sometimes a she. But with his large eyes and pale skin he was still a beautiful child. Now people said, "With that hair, this one should have been a girl."
To make up for it, he tried to act as he thought boys should act. He took charge of Sabine and Baby Suse, not in a bullying way, but in the role of teacher and defender, directing their play and watching out for dangers beneath the bed and beyond the garden wall. He did not know that Sabine felt the same. When the twins sat for their portrait at age seven, it was Sabine's hand that rested protectively on Dietrich's shoulder.
They lived then in the Bruckenallee, near the zoo. Sometimes at night the children could hear the animals in their cages, the trumpeting elephants, the grumbling lions, the sharp cries of monkeys and plumed birds. During the Great War, the cries grew more desperate, then weaker. Sometimes they were screams of agony. The oldest brother, Karl-Friedrich, said poor people from Wedding and Prenzlauer Berg would slip inside at night and slaughter the animals, strip the carcasses to the bone, and carry away the exotic meat in bloody sacks. At night, high in their third-floor room, Dietrich spoke with God about the animals, while Sabine remained anchored in the world, watchful. He thought he heard God answer, but still the animals died.
Karl Bonhoeffer was Germany's leading psychiatrist and a great opponent of Sigmund Freud and psychoanalysis. His wife, Paula, was the daughter of Prussian aristocracy. So it was fitting they should possess a large household. There was Fraulein Horn, the governess. A butler, Schmidt, and two housemaids, Elli and Maria. The cook, Anna. The chauffeur, Keppel. Put during the Great War, even the Bonhoeffers' bread was more sawdust than flour.
The house in the Bruckenallee was near the Bellevue station, and convoys of lorries passed by each day on their way to meet trains bearing the remains of soldiers killed in France. Before long the lorries carried familiar dead, first the relatives of schoolmates, then a Bonhoeffer cousin from Schwabisch-Hall, then von Hase and von Kalckreuth cousins. Paula Bonhoeffer lost several Prussian nephews. She could not bear the rows of coffins at the Bellevue station, was frantic to keep her children from seeing them, as though they might be cursed by the sight. So her husband moved the family to WangenheimstraBe 14 in the Grunewald quarter. It was a large house with a garden, so the family could grow its own produce, and every evening when lessons were done, the children of parents who had never known menial labor put on their gardening smocks and took up their hoes.
Then the two oldest boys, Karl-Friedrich and Walter, were conscripted. Dr. Karl Bonhoeffer could have called upon his extensive connections and obtained safe commissions for them; he was pleased though apprehensive when they rejected such special treatment and requested frontline duties. Dietrich, who was eleven, noted his father's pride and wished he were old enough to join his brothers. He secretly followed the progress of the Kaiser's troops on a map in his desk drawer, blue-flagged pins for the hated Allies, red pins for the Fatherland.
The secrecy was necessary because of his mother. In 1914, Christel had come skipping down the Bruckenallee sidewalk calling, "Hurrah, there's to be a war!" Paula Bonhoeffer had slapped her daughter's face. When Karl-Friedrich and Walter left for the front, the family and servants walked in a small parade, carrying hampers of food, to the Halensee station to see them off. The parents kissed each of the young men in farewell. More than any thing this marked the solemnity of the occasion, for in the Bonhoeffer family kisses were bestowed only on birthdays and at Christmas. Dietrich thought the day a glorious one until the train pulled out of the station and his distraught mother ran the length of the platform calling out the names of her sons.
That night Dietrich paid for his war lust, like a glutton who suffers stomach pains after an evening of indulgence. He and Sabine shared a room overlooking the garden. The plain oak beds stood side by side with a table between. A cross hung on the far wall--their mother's doing. It was also Paula who led mealtime and evening prayers, while her husband sat by with a bemused but tolerant expression. Karl Bonhoeffer was an agnostic but believed religions observance to be useful and character-building for women and children. The older boys soon followed his lead and openly expressed their doubts about their mother's faith, but the twins enjoyed the prayers and the hymns their mother sang as she tucked them into bed at night. They liked to lie on their backs and stare at the cross, iridescent in the moonlight, its surface shimmering as though it were underwater.
On the night his brothers went away to war, Dietrich said, "Mama told us good people go to heaven when they die. But what if they don't like heaven? Or what if they don't go anywhere?"
Sabine turned away from the cross and shut her eyes. "Don't think about it."
"It's for eternity," he said. "Think what that means, Sabine. You can say the word over and over and over and over and still not be at the end of anything."
He flopped onto his stomach, wrestled the bedclothes a moment, then turned over onto his back again.
"Say it," he said. "Say 'eternity.'"
"Eternity," Sabine replied.
He began a chant. "Eternity eternity eternity eternity eternity ..."
"Stop!" Sabine commanded.
He fell silent. She heard him breathing loudly. Then he whispered in a terror-stricken voice, "Sabine! I'm afraid I'm going to die!"
She sat up. "What?"
"I'm afraid I'm going to die, right this minute. I have to think about every breath. Talk to me, Sabine."
"Shall I read to you?"
He lay back on his pillow, breathing heavily. "Yes, please."
She turned on the light between their beds and found a copy of fairy stories left on the table by Fraulein Horn. She began to read the story of the Wild Swans. By the time the princess sat spinning shirts from nettles, he was asleep.
They fell into a ritual then. Sabine must read to Dietrich, or tell him good night until he fell asleep. As long as he heard her voice, he couldn't die. Night after night she fought to stay awake so she could keep her brother alive.
"Good night."
"Good night."
"Goodnight."
"Goodnight."
Goodnight.
Goodnight.
Goodnight.
Goodnight.
Goo-night.
Goo--
Most nights, he was still awake when she nodded off.
Then Walter was wounded. In his last letter home, he wrote
Dear Family, I've had my second operation. It was disagreeable, because the fragments of shrapnel were quite deep. I have been given two camphor injections. Perhaps that will suffice. I refuse to contemplate the pain. Instead, I think of you, my family, with every ounce of strength that remains.
Karl Bonhoeffer read the letter aloud to the family gathered in the parlor, Paula seated with her hands in her lap and the children gathered around her. Then he removed his eyeglasses and looked at each of them in turn. "You see," he said, "how Walter writes? He does not seek to deny the pain of his circumstances, yet he is modest. He does not complain. This is how a Bonhoeffer conducts himself. Your brother is a great credit to our family and to Germany."
When word came of Walter's death soon after, Karl Bonhoeffer called the family together once more to read the official telegram. The children began to sob, and Paula, who was receiving the news at the same time as the others, gave a small cry and stood with a stricken look on her face. Her husband raised his hand and said, "For the sake of the children, my dear, we must show strength and forbearance." His wife looked at him and walked out of the house. The next-door neighbors, the von Harnacks found her sitting in their drawing room, rocking back and forth, mute. They put her to bed for several weeks, and when she finally returned to her own house, she still could not speak. This continued for several months, until one morning she said, as though nothing had happened, "I think I should like a cup of tea." Her husband took off his glasses and laid them on the breakfast table, kissed her on the forehead, and poured the tea. When the children came downstairs with Fraulein Horn, he said, with a severe glance that warned off an emotional response, "Your mother is feeling better and has asked for tea." Dietrich, who had prayed daily to hear her voice once more, watched her closely while she drank, his hands beneath the table to conceal their trembling.
After Walter's death, Dietrich was given his room and Baby Suse moved in with Sabine, because Karl Bonhoeffer made all family decisions during his wife's illness, and he judged it to be time. The twins had never before stayed apart. Because their mother was not there to tuck them in and help them with their prayers, Dietrich decided he would himself lead their devotions. He would knock on the wall above his bed, and Sabine would knock back. Two knocks meant I'll be asleep soon. Three knocks meant Think of God.
On warm nights they could open their windows, lean out, and talk to each other, their heads dark ovals against the faint light of the moon. When they were done, they reached out, arms white in the moonlight. They couldn't touch.
He thought he was being punished for Walter's death.
For most of his childhood, it was assumed that music would be Dietrich's vocation. This was what his father foresaw, and so it was accepted. Karl-Friedrich would he the scientist, Walter would have been the lawyer, the girls were talented but would marry and raise families. As for Dietrich, he might have chosen law as well, or medicine, but he seemed to have an aptitude for neither. As he grew older his teachers praised his ability in philosophy, but this made little impression on his practical father. He was an excellent tennis player, and excelled in track, but these were not important at home. Dietrich was dreamy, and a loner. Though he was well liked at school, he had no close friends. The artist's temperament, Karl told his wife. It was the same with Mozart, who also showed great promise at a young age. For at ten Dietrich had mastered Mozart's piano sonatas, and soon after began composing his own work. At the family's frequent musical evenings--for everyone played an instrument--Karl Bonhoeffer often spoke of the Berlin Conservatory and a career as a concert pianist for his youngest son.
When Dietrich was fourteen, he was taken to the conservatory to play for the famed pianist Leonid Kreuzer. He played a Schubert Lied, his back ramrod-straight, while his parents sat, formally dressed, in the back of an empty auditorium. When he was done, Kreuzer, in the front row, nodded his head. A woman who had been seated beside him rose, went to the stage, and stood with her hands clasped at her waist.
"Now the Mozart," Kreuzer said.
Dietrich had chosen an arrangement of the Kyrie from the Mass in C Minor to demonstrate his skill as an accompanist. He played and the woman answered in a throaty soprano. Paula dabbed at her eyes with a handkerchief.
Later Kreuzer met them in a small room down the hall, where they were served Linzer torte on a silver tray and coffee in white china cups. Dietrich was too nervous to eat. They sat in a circle. Kreuzer leaned forward, raked back long gray curls with his hand.
"There is talent. Ja. Competency. But interpretation--" he made a slicing motion with his hand--"missing. The Kyrie is about passion, the intense passion of a tormented soul lusting for God. I heard no lust in this performance. Reverence, ja, but no apprehension of what Mozart was trying to do in this piece." He looked at Karl Bonhoeffer instead of Dietrich. "Competency, as I say. This boy is quite likely to be admitted to the conservatory. He might teach. Or play with a provincial orchestra." He shrugged. "Stuttgart or Leipzig, that sort of thing. But a major soloist? No, never. What is missing, training cannot provide. I can't see him with the baton, either. His is not the gift of interpretation."
On the ride home they were silent. Nothing would be said, one way or the other, in front of the chauffeur. Dietrich could not look at his parents, so he stared out the window at the monotonous blocks of Wilmersdorf flats. At home, Father called the family to his study.
"Dietrich played well. Mother and I were very proud. But it is Kreuzer's opinion he would never be in the first rank of pianists."
Dietrich's fingernails scrabbled an arpeggio on the rough fabric of his chair. He could sense that Sabine was trying to catch his eye but he avoided looking at her. His father spoke quite gently. "Would you still wish to study music, Dietrich?"
"No, Father."
He didn't cry. It would be unthinkable in front of the family, and when he was finally able to escape to the garden, the moment had passed, leaving behind a dull ache in his midsection. He huddled on a bench behind a stand of japonica. Sabine found him at last, and they sat side by side without touching. That evening they played music as usual, and everyone made a great pet of Dietrich. When Sabine and Baby Suse turned out their light and climbed into bed, he knocked three times on the wall.
Several months later, Dietrich announced at the dinner table that he would study theology when he went to university. Everyone stopped eating and stared, while he kept calmly cutting his schnitzel. "I've been thinking it over ever since I decided not to study music. Herr Heininger at the Gymnasium is a pastor's son, and he says I've a gift for it. And what could be a larger subject, after all, than God?"
Karl-Friedrich, who had returned from the war and declared himself a Socialist (much to his parents' consternation), was the first to recover. "You don't even go to church," he said.
"No," Dietrich agreed. "It isn't necessary. Theology is an intellectual discipline, like philosophy, only more specific and therefore more rigorous."
Karl-Friedrich laughed. "Of all the nonsense! Theology? I can't imagine anything more fuzzy-minded, or irrelevant!"
"Karl-Friedrich!" Mother said sharply.
"Sorry, Mother. But you don't go to church either."
"Still I pray every night," she said. "And I read scripture. Certainly you've been taught it is rude to mock religion. Has he not, Father?"
"He has," Dr. Bonhoeffer agreed. "I myself participate in Mother's devotions out of respect for her, though I admit to knowing little of such matters myself."
"Or caring little," Karl Friedrich whispered beneath his breath so that only Sabine heard.
"If theology seems irrelevant," Dietrich said to a parsley potato stuck on the end of his fork, "then it is because it has been improperly presented. I shall change that."
Then everyone laughed, except Sabine. And Karl Bonhoeffer. After considering his son for a time he said, "I'd hate to see you waste your years at university. There was a time when theology and philosophy and science were one. But that hasn't been true for centuries. The best minds of our time concern themselves with the latter two disciplines, because there lie the most possibilities for the improvement of humanity."
"There's von Harnack," Dietrich said.
Adolf von Harnack was the leading Protestant theologian in Germany, and the next-door neighbor of the Bonhoeffers, an elderly man pitied by the other intellectuals in the Grunewald because his field was archaic and his nephews were rumored to be Bolsheviks.
"That's it," Karl-Friedrich said. "Old von Harnack's got hold of you."
"I haven't spoken to him," Dietrich said. "I didn't tell anyone until today, when Herr Heininger asked us in class to declare a field of study." He looked around the table. "I said 'theology.' It just came out suddenly, but I realized I'd been considering it quite a while."
Sabine nudged his leg beneath the table and smiled at him. He smiled back.
"What did your classmates say?" Christel asked.
"They looked at me as if I'd said I was going to take up big game hunting."
"At least with big game hunting you'll have a chance at some solid results," said Karl-Friedrich. "A theologian is about as useful as a maker of paper airplanes."
"Dietrich," said his father, "you suffered a very great disappointment when a musical career no longer seemed likely, and I'm sure you're not yet over the hurt. Still you will need to make a decision soon, and I urge you not to be rash."
"But why shouldn't Dietrich study theology?" Paula Bonhoeffer asked. "After all, my side of the family includes a number of distinguished clergymen."
"Great men in their day," agreed Karl Bonhoeffer, "but it was a different time, a less sophisticated time."
"When we were small," Sabine said, "Dietrich used to speak of God to me nearly every night when we went to bed. And we used to talk about eternity before we fell asleep."
"Eternity!" said Karl-Friedrich. "Now there's a sleep-inducing subject for you."
"Karl-Friedrich, that is quite enough!" his mother admonished.
But Dietrich was looking at his father as though no one else had spoken.
"It's what I want," he said. "And I don't care about the disappointment of not studying music. That sort of life would have been too easy. Not this. This will be the hardest thing in the world."
He asked to be excused and went to his room.
Dietrich and Sabine celebrated the passage of their school-leaving examinations with a hiking trip through the Thuringer Wald. They began at Meiningen on a spring day so warm their blouses were damp beneath their backpacks, and for sheer joy they clopped through mud puddles in their heavy boots. But though they spent their vacations at the Bonhoeffer summer home in the Harz, they were children of the city, unused to the vagaries of nature. On the Inselberg they climbed into a blowing snowstorm and lost their way. Their light jackets were not much use against the cold, and they stopped often so Dietrich could kneel in the drifts and knock crusts of ice from the skirt of Sabine's dress. Then they floundered on, arms around each other's waist, free hands clutching walking sticks that propelled them along, a single creature, like some huge ungainly snowbird.
With no clear path, and night coming on, they thought it best to simply go down. This way took them through stands of dark green fir that forced them time and again to alter their course. Night fell. They sang, Dietrich booming out Horch, was kommt von drauBen Rein? in his fine voice, Sabine Heula hie, heula ho! Their feet were numb and each step jarred them to the teeth, and they were happy, and pressed on, Hansel and Gretel in search of a hearth.
At last they slid down an icy funnel and landed in a heap at the edge of an open meadow. Through the white curtain of snow a warm light glowed in a cottage window. They sat in a drift and knocked snow each from the other, pointing at the light and whispering.
At the door, Sabine stepped forward first and knocked, then Dietrich pulled her back to the shelter of his arm. They waited, faces turned to the single ice-glazed window. The door opened. A table, and the faces that hovered around it, seemed a great distance away. The large man who had opened the door leaned forward and blocked their view.
"Ja?" the man said.
"Pardon," said Dietrich, "we have lost our way in the snow. May we find shelter here? A bit of food, perhaps?"
He stepped away from the door and ushered them inside. The faces still watched them, then moved off, accompanied by a strange and comforting clatter of clogs on the stone floor. The man led them to a bench. Wooden bowls and spoons appeared, then ladles of potato soup. The soup was lukewarm, with thick, milky bits as though the bottom of a pot had been carefully scraped to find enough for them. Wedges of goat cheese and heels of black loaves daubed with pork fat were laid beside their numb hands.
They ate slowly while the faces retreated to the hearth and began murmuring. There were as many as in the Bonhoeffer family, but they seemed more worn and brown around the edges. At first Dietrich's eyes felt frozen but then seemed to melt and it was easier to look about. Every wall of the cottage was covered with implements, pruning hooks, blunderbusses, washboards, clocks, crucifixes, salt shakers, bric-a-brac shelves, jars of flour and beans and preserves, mattocks.
Sabine leaned against him and whispered, "It's like living inside a drawer." He nodded and smiled.
When they had done eating, the old woman of the family approached, pulling her shawl about her shoulders.
"Come, children," she said, "and sit by the fire. The young ones want stories. "
She placed warm cups in their hands, and they sipped rich homemade beer.
"A story," the youngest girl said. "A story."
Sabine was truck dumb. But Dietrich pulled his knees to his chin and looked into the fire. "Shall I tell of the Wild Swans?" he said.
"Ja, ja," the children chorused.
He began, "Once upon a time, a king hunted in a dark forest."
Of course they knew it, as well as he did. And still Dietrich held them. He told of the widowed king who lost his way in the Thuringer Wald and was tricked into marrying the daughter of a witch.
"Once the wedding was performed," Dietrich said, "the king's eyes were opened and he saw what he had done. He feared at once for his children, six boys and a girl, and sent them away to live in this very forest, at the foot of the Inselberg. But the wicked stepmother found them out. She wove six blouses of white silk, enchanted blouses with the power to transform Seeking out the young princes, she threw the blouses over them, and each in turn was changed into a white swan, and flew away. Only the witch did not know of the girl child, who hid and then ran away deep into the forest.
"One night, as the girl huddled hungry and frightened beneath a giant spruce, the six swans found her. In their beaks they carried blankets and baskets of food, which they laid about her. For a moment they were changed back to their human forms. And they told--"
"Pardon!" A small girl tugged at Dietrich's arm. "How were they changed back? Why did the witch allow it?"
Dietrich thought a moment. "Perhaps the witch didn't allow it," he said. "Perhaps it was their care for their sister which broke the spell ever so briefly."
"Of course," said the old woman. "Go on with your tale, go on."
"The brothers asked their sister to weave them shirts of thistle and thorns," Dietrich continued. "Only in this way would the spell be broken for good. And she must not speak to a soul until the task was completed.
"The girl set about her work. Think how painful it would have been to weave thistles and thorns, day in and day out."
"Her fingers would bleed," a boy said.
"They would not stop bleeding," Dietrich agreed.
"Like the hands of our Lord," the old woman said from her corner.
Dietrich looked startled but went on with the story, told how a handsome prince married the girl, who remained mute, and how many began to accuse her of witchcraft because of her silence. At last her enemies prevailed and she was to be burned at the stake, but even as the pyre was built, the swans swooped from the clouded sky to the prisoner's balcony. One by one the girl threw the blouses over the swans, who became her brothers once more. At last she could speak in her defense, and so was saved. Only one blouse was not finished, so the youngest brother kept the wing of a swan for the rest of his days.
They heard Dietrich out in silence, the youngest with her thumb firmly in her mouth.
"Well told," the man said at last. The woman nodded, and set down her darning to refill their cups.
"Where from?" the man asked.
"Berlin," they answered.
"Ah. Ah. Are there any stories worth telling about Berlin?"
"Nein." The woman paused in her pouring. "They will not have good stories about Berlin. Too many Jews there."
Dietrich sat up. "Why do you say that? Do you know any Jews?"
She crossed herself. "God forbid!"
Sabine caught Dietrich's arm and forced him to look at her, shook her head. "Leave it," she whispered.
"But it's wrong," he whispered back.
"Of course it's wrong. But they have taken us in and shared their food with us. And they have precious little for themselves. They're worn--out look at them--and so are we just now. You won't convince them. It isn't worth a row."
He leaned back against the leg of a table and shut his eyes. The children watched him carefully.
"Tell another story," the boy asked.
"Whsst," the man said. "'Tis past time for bed. Mother, see to the guests."
The old woman gave them a package of bread and butter for the morning, and refused their offer of pay. Then a thin boy of around fourteen carried a lantern before them to the barn and up a ladder to the loft. With apologies, he explained, "We've no more room in the house. But I sleep up here always and it is quite warm in the hay."
He helped them spread their blankets, then retreated to a far corner and was soon snoring. They wrapped themselves tight and burrowed deep, Dietrich with his back to Sabine. She knew he didn't sleep.
"What?" she asked after a time. "Is it because I asked you to be silent?"
"I don't blame you," he said. "But one never makes up for something like that."
"It's how human beings get on sometimes," Sabine said. "Who has the strength to always he right?"
At dawn the family went out for their day's work in the field. Though the ground was frozen, it was April, and they must begin to break up the soil. Through a crack between the boards, Dietrich and Sabine watched them go, clogs punching holes in crusts of ice, like gunshots, as they made their way clutching shovels and mattocks, and disappeared around the glazed curve of the meadow.
Use of this excerpt from Saints and Villains by Denise Giardina may be made only for purposes of promoting the book, with no changes, editing or additions whatsoever, and must be accompanied by the following copyright notice: copyright ©1998 by Denise Giardina. All Rights Reserved.
Saints and Villains
by by Denise Giardina
paperback: 512 pages
Publisher: Ballantine Books
ISBN-10: 0449004279
ISBN-13: 9780449004272