About the Book
About the Book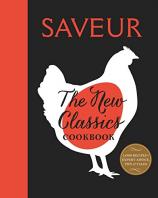 From the editors of America's favorite culinary magazine, THE NEW CLASSICS COOKBOOK features more than 1000 well-curated global recipes in an essential collection for home cooks everywhere. This masterful selection celebrates the brand's authority, heritage, and depth of worldwide culinary knowledge in what will become an indispensable and treasured guide for everyone who relishes authentic cooking and SAVEUR's standard of excellence.
Offering authentic, from-the-source recipes for virtually every type of dish (from tapas and cocktails to salads, dumplings, one pot meals, and more), essential techniques, and practical advice, this thorough collection of recipes from the pages of SAVEUR represents a comprehensive foundation for any home cook looking for a go-to guide—and daily inspiration—from a trusted source. Also includes suggested menus for holidays and occasions; illustrative sidebars that showcase groups of ingredients (such as the Mexican pantry, different varieties of tomatoes, what makes a good tagine) or provide easy-to-follow instructions for techniques (like how to crimp a dumpling or fold an empanada); and two sections of gorgeous full-color photographs that bring the cuisine to life.
The 16 chapters are organized by course and food type. A robust selection of pantry basics (DIY condiments, stocks and sauces, spice blends and rubs, and more) is also included. Each recipe includes a headnote (explaining the origin of the dish, offering suggestions for perfecting the method, or a serving suggestion) and there are illustrations and cook's notes, imparting helpful tips (wear gloves when working with hot chiles, use young ginger for the best flavor) scattered throughout the book. Icons call out vegetarian dishes and other helpful information at a glance. Multiple indexes make it easy to find recipes for any occasion.
Since its founding in 1994, SAVEUR magazine has provided vivid and unprecedented access to the world's cuisines, telling the stories of authentic meals and the cooks behind them through impeccable photography, faithfully reproduced recipes, and expertly crafted articles from the world's most celebrated food writers. SAVEUR's editors are passionate about the stories behind the meals, be they classic dishes known to all, or obscure traditions worth sharing with the world. They understand each ingredient, each person, each meal, has undergone a special journey and this knowledge is at the root of every article and image in SAVEUR. Cherished by travel enthusiasts, home cooks, and professional chefs, and culinary adventurers alike, SAVEUR is the magazine of choice for people who experience the world food-first, whether they're slurping noodles from a street cart in Vietnam, or savoring the pleasures of a three-star meal in Paris. Honoring both the humble and the elevated, spontaneous meals and those that take days to prepare, every issue of SAVEUR is a celebration of real food made by real people.