About the Book
About the Book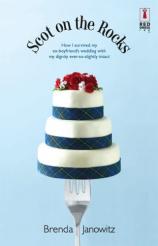 Attending your ex-boyfriend's wedding should be against the law.
When her ex-boyfriend, Trip, gets engaged to Hollywood's latest It Girl, Manhattan attorney Brooke Miller plans to attend the wedding. Who says a modern girl can't stay friends with her ex? Besides, Brooke's got her sexy Scottish fiancé, Douglas, to take as her date. Okay, so maybe he's not exactly her fiancé, but they're living together in his apartment, so she'll be getting the ring any minute, right?
Wrong.
When a fight leaves her without a boyfriend (much less a fiancé) just days before the wedding, Brooke faces the ultimate humiliation of attending her ex-boyfriend's nuptials alone. Desperate to find a replacement to fill Douglas's kilt, Brooke concocts an outrageous plan to survive the wedding and win the man of her dreams, all with her dignity ever-so-slightly intact.
Scot on the Rocks: How I Survived My Ex-Boyfriend's Wedding With My Dignity Ever-So-Slightly Intact
by Brenda Janowitz
Publication Date: April 1, 2007
Paperback: 304 pages
Publisher: Red Dress Ink
ISBN-10: 0373895283
ISBN-13: 9780373895281