About the Book
About the Book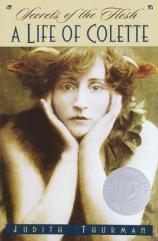 A scandalously talented stage performer, a practiced seductress of both men and women, and the flamboyant author of some of the greatest works of twentieth-century literature, Colette was our first true superstar. Now, in Judith Thurman's Secrets of the Flesh, Colette at last has a biography worthy of her dazzling reputation.
Having spent her childhood in the shadow of an overpowering mother, Colette escaped at age twenty into a turbulent marriage with the sexy, unscrupulous Willy--a literary charlatan who took credit for her bestselling Claudine novels. Weary of Willy's sexual domination, Colette pursued an extremely public lesbian love affair with a niece of Napoleon's. At forty, she gave birth to a daughter who bored her, at forty-seven she seduced her teenage stepson, and in her seventies she flirted with the Nazi occupiers of Paris, even though her beloved third husband, a Jew, had been arrested by the Gestapo. And all the while, this incomparable woman poured forth a torrent of masterpieces, including Gigi, Sido, Cheri, and Break of Day.
Judith Thurman, author of the National Book Award-winning biography of Isak Dinesen, portrays Colette as a thoroughly modern woman: frank in her desires, fierce in her passions, forever reinventing herself. Rich with delicious gossip and intimate revelations, shimmering with grace and intelligence, Secrets of the Flesh is one of the great biographies of our time.
Secrets of the Flesh
by Judith Thurman
Publication Date: October 31, 2000
Paperback: 640 pages
Publisher: Ballantine Books
ISBN-10: 0345371038
ISBN-13: 9780345371034