About the Book
About the Book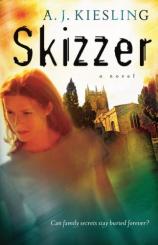 Two sisters. Many unanswered questions. One undiscovered past.
Claire Trowling is on a quest. It's June, 2001, and she has just received news of her sister Becca's abrupt disappearance. After finding a stack of mysterious letters bound by a rare necklace, Claire leaves her home in North Carolina and heads to England --- the source of the heirloom --- for answers. Soon she realizes she must piece together the shadowy remnants of a past she's long forgotten in order to save her family's future.
Suspenseful and full of intrigue, Skizzer is a dramatic tale of a sister's race to discover her true beginnings amidst the secrets that hold her family captive. But are some secrets better left uncovered? Join the transcontinental hunt for answers and discover the truth.