About the Book
About the Book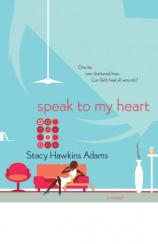 Serena Jasper is successful, sassy, and saved. Her life is going great. Her professional advertising career has hit the fast track, her future looks promising, and her mother couldn't be more proud.
But then Mama shares a devastating secret that changes Serena's life. Feeling like her whole identity is in question, Serena decides she needs a break from everything and everyone. From Mama. And from God.
Throwing herself into her budding career and her new friendship with a handsome seminary student named Micah, Serena discovers she can no longer avoid God's voice or Mama's secret. Can she come to terms with her mother's past, her relationships, and the One who was always speaking to her heart, even when she wasn't listening? Or is it too late to make amends?