About the Book
About the Book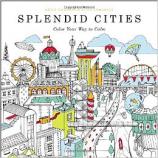 A coloring book that will relax and inspire --- all the while transporting you to the world's most wonderful cities.
The most splendid cities in the world --- some real, others imagined --- come alive under your hand. Open this book and let yourself be drawn into a world tour dotted with floating kingdoms in the sky and spooky cities, and taking you from the domes of Moscow to the top of the Eiffel Tower. This journey knows no limits!
So take your time, relax, and let your imagination run free! Get out your markers or pens and discover the calming pleasure of coloring.
Splendid Cities: Color Your Way to Calm
by Rosie Goodwin and Alice Chadwick
Publication Date: June 9, 2015
Genres: Art, Crafts & Hobbies
Paperback: 96 pages
Publisher: Little, Brown and Company
ISBN-10: 0316265810
ISBN-13: 9780316265812