About the Book
About the Book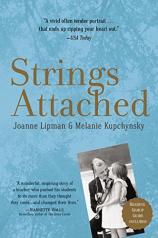 STRINGS ATTACHED is a powerful memoir about resilience in the face of unspeakable tragedy, an inspiring and poignant tale of how one man transformed his own heartache into a legacy of joy for his students.
His students knew Jerry Kupchynsky as "Mr. K" --- the fierce Ukrainian-born music teacher who rehearsed them until their fingers almost bled and who made them better than they ever expected to be. Away from the classroom, though, life seemed to conspire against him at every turn. STRINGS ATTACHED takes you on his remarkable journey, from his childhood on the run in Nazi Germany, to his life in America caring for his disabled wife while raising their two small daughters, to his search for his beloved younger daughter after she mysteriously disappeared --- a search that would last for seven years.
His unforgettable story is lyrically told in alternating chapters by two childhood friends who reconnected decades later: Melanie Kupchynsky, his daughter, and Joanne Lipman, a former student. Heartbreaking yet ultimately triumphant, STRINGS ATTACHED is a testament to the astonishing power of hope --- and a celebration of the profound impact one person can have on the lives of others.