About the Book
About the Book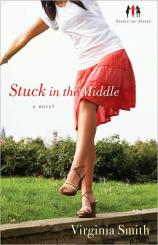 Dumped, dateless, and desperate --- what's a girl to do?
Joan Sanderson's life is stuck. Both her sisters have promising families or careers, while Joan is living at home… with Mom. But when a hunky young doctor moves in next door, Joan suddenly has a goal --- to get a date. It won't be easy, what with her sister vying for his attention, too! But what's a little sibling rivalry when it comes to finding love? Joan is about to find out. Will she break out of her rut? Or will she stay Stuck in the Middle?
Introducing book 1 in the Sister-to-Sister series: an exciting romp you won't want to miss.