About the Book
About the Book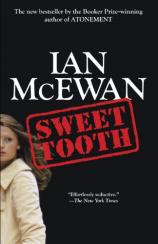 In this stunning new novel, Ian McEwan's first female protagonist since Atonement is about to learn that espionage is the ultimate seduction.
Cambridge student Serena Frome's beauty and intelligence make her the ideal recruit for MI5. The year is 1972. The Cold War is far from over. England's legendary intelligence agency is determined to manipulate the cultural conversation by funding writers whose politics align with those of the government. The operation is code named "Sweet Tooth."
Serena, a compulsive reader of novels, is the perfect candidate to infiltrate the literary circle of a promising young writer named Tom Haley. At first, she loves his stories. Then she begins to love the man. How long can she conceal her undercover life? To answer that question, Serena must abandon the first rule of espionage: trust no one.
Once again, Ian McEwan's mastery dazzles us in this superbly deft and witty story of betrayal and intrigue, love and the invented self.