About the Book
About the Book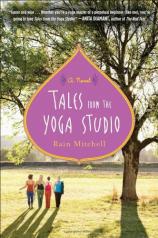 A sparkling new series introducing five unforgettable women who flock to yoga at turning points in their lives and find the gift of lasting friendship.
The yoga studio is where daily cares are set aside, mats are unfurled, and physical exertion leads to well-being, renewal, and friendship. An aggressively expanding chain of Los Angeles yoga "experience centers," has Lee and her extraordinary teaching abilities in its sights. They woo her with a lucrative contract, a trademarked name for her classes, and a place for her handsome musician husband. But accepting the contract means abandoning the students at the homey studio Lee runs in L.A.'s Silver Lake district --- and leaving behind four women whose friendships are suddenly more important to her than retirement benefits and a salary increase.
Tales from the Yoga Studio is an insider's look at the current obsession with yoga, told with enough humor, wit, and warmth to charm and delight readers, whether or not they've ever done a Downward Dog.
Tales from the Yoga Studio
by Rain Mitchell
Publication Date: December 28, 2010
Paperback: 288 pages
Publisher: Plume
ISBN-10: 0452296919
ISBN-13: 9780452296916