About the Book
About the Book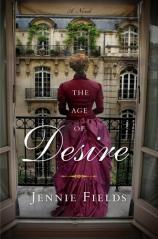 For fans of THE PARIS WIFE, a sparkling glimpse into the life of Edith Wharton and the scandalous love affair that threatened her closest friendship
They say behind every great man is a woman. Behind Edith Wharton, there was Anna Bahlmann --- her governess turned literary secretary, and her mothering, nurturing friend.
When at the age of 45, Edith falls passionately in love with a dashing younger journalist, Morton Fullerton, and is at last opened to the world of the sensual, it threatens everything certain in her life but especially her abiding friendship with Anna. As Edith's marriage crumbles and Anna's disapproval threatens to shatter their lifelong bond, the women must face the fragility at the heart of all friendships.
Told through the points of view of both women, THE AGE OF DESIRE takes us on a vivid journey through Wharton's early Gilded Age world: Paris with its glamorous literary salons and dark secret cafés, the Whartons' elegant house in Lenox, Massachusetts, and Henry James's manse in Rye, England.
Edith's real letters and intimate diary entries are woven throughout the book. THE AGE OF DESIRE brings to life one of literature's most beloved writers, whose own story was as complex and nuanced as that of any of the heroines she created.
The Age of Desire
by Jennie Fields
Publication Date: August 2, 2012
Genres: Fiction, Historical Fiction
Hardcover: 368 pages
Publisher: Pamela Dorman Books
ISBN-10: 067002368X
ISBN-13: 9780670023684