About the Book
About the Book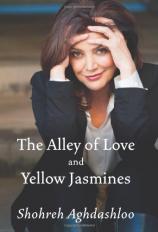 Shohreh Aghdashloo is an Oscar-nominated and Emmy Award-winning actress whose prolific work on stage and screen has been lauded for decades in both her native Iran and her adopted home in the United States. American audiences know her from roles as Ben Kingsley's character's wife in House of Sand and Fog, in HBO's acclaimed House of Saddam, and as a terrorist in season 4 of Fox's "24" . But the transition from a young girl first swept away by American movies in a Tehran theater to an acclaimed international performer has been a hard-fought and sometimes dangerous battle. In her stunning memoir, Shohreh Aghdashloo invites readers to retrace her journey from the vibrant Tehran of her youth through the menace of revolution to a place of promise and dreams.
Raised in an affluent Muslim family in and around Tehran, the stunningly beautiful Shohreh was encouraged as a child to play and enjoy life. Hollywood films were popular under the Shah's Western-leaning reign, and Shohreh relished her trips to the theater, emulating Elizabeth Taylor's makeup or Vivien Leigh's Scarlett O'Hara. She wished desperately to become an actress, though her parents would push her to take computer classes or prepare for medical school in Germany. When she fell in love with Aydin, a man thirteen years her senior, she made him promise when he proposed marriage that he would allow her to follow her dream of becoming an actress.
The first years of their lives together were magical. Shohreh was receiving fantastic reviews for her work on the stage and winning larger roles in Iranian films. Aydin was working for the Minister of Art and Culture, painting and exhibiting his art in Tehran. The two would travel around Europe and the Middle East in what seemed like an endless honeymoon. But in 1978, the Ayatollah began sowing seeds of revolution. As the Shah flees Iran, Shohreh realizes she, too, must escape her now strange and dangerous home, even if it means leaving behind the man she loves, who loves his country too much to go with her.
Shohreh was able to make it across the border to Turkey, then making her way through Europe to the UK, where she would eventually settle down and attend university. It's in London that her passion for acting will be reignited, and it's here that her journey to the red carpet, to the Hollywood of her childhood dreams really begins. But once in Hollywood, she is frequently reminded of her position as an outsider and shares stories from behind the scenes, including what it was like to be snubbed by two of Tinseltown's biggest names on Oscar night.
The Alley of Love and Yellow Jasmines
by Shohreh Aghdashloo
Publication Date: June 4, 2013
Genres: Autobiography
Hardcover: 288 pages
Publisher: Harper
ISBN-10: 006200980X
ISBN-13: 9780062009807