About the Book
About the Book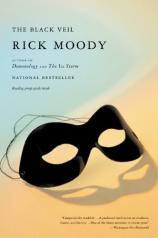 While still in his twenties, Rick Moody found that a decade of alcohol, drugs, and other indulgences had left him stranded in a depression so severe that he feared for his life. The road of excess led, for him, not to the palace of wisdom but rather to a psychiatric hospital in one of New York's least exalted boroughs.
The Black Veil is Rick Moody's account of that debilitating passage in his life. It is the powerfully written story of a mind unraveling, and of how it feels when the underpinnings of life fall away. The anxieties of early adulthood, of first finding a place in the world—the weight placed upon that first relationship, first job, first apartment—are presented here with enormous sympathy. Anyone who has ever felt his or her own psychological footing slip, even briefly, will find Moody's account of his breakdown and return both harrowing and heartbreaking.
At the same time, The Black Veil is an astonishing exploration of guilt, blame, the public face, and the very idea of self. Looking for clues to his lifelong sense of melancholy and shame, and recognizing signs of this same condition in his family's paternal line, Moody embarked on a search for its origins. This quest begins with fathers ("Fathers refold maps, fathers like to appear as though they have infallible knowledge of direct routes between any two points") and grandfathers ("The idea here is that you have to do the heavy lifting first"). It ventures through stone quarries in Connecticut, among mossy tombstones in Maine, into the coded diary of a tormented Puritan minister, and into the life and writings of Nathaniel Hawthorne. In these and dozens of other places, Moody finds gleaming pieces of the past, and he weaves of them an inspired portrait of what it means to be young and confused, older and confused, guilty, lost, and finally healed.
Funny, sad, and blazingly inventive, The Black Veil is another work of audacious originality by one of the most thoughtful writers of our time.
The Black Veil: A Memoir With Digressions
by Rick Moody
Publication Date: May 12, 2003
Genres: Nonfiction
Paperback: 323 pages
Publisher: Back Bay Books
ISBN-10: 0316739014
ISBN-13: 9780316739016