About the Book
About the Book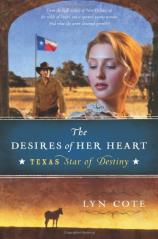 The Desires of Her Heart is a beautiful historical romance between a woman forced to make a new life on the Texas frontier and the scout who leads their wagon train through the uncharted territory. Set in 1821, Dorritt Mott is anti-slavery, a woman ahead of her time. When events make it impossible for her family, including an overbearing stepfather and a spoiled half-sister, to remain in New Orleans, they head to Texas on foot to join Stephen Austin's settlement and recoup their fortune in virgin Texas.
Quinn, a social outcast as the half-breed son of a Cherokee mother and an American father, has made a name for himself as a scout and a man not to be taken lightly. When the New Orleans lady and the frontiersman meet, they become unlikely allies as they travel the wilds of Texas. But will their trek be in vain? Mexico has broken with the Spanish Crown that had granted Austin land. And both armies plus marauding Comanche roam the pine forest and prairie of Texas.
And though they are unaware of it, there is a closer danger, a man who is plotting destruction and who will try to make Dorritt and Quinn pawns in his scheme. As their romance blossoms, can Dorritt help Quinn put his trust in the God, who has promised that those that delight in Him shall be given the desires of their hearts? What will it take for Quinn to believe that promise?
The Desires of Her Heart: Texas Star of Destiny, Book 1
by Lyn Cote
Publication Date: February 10, 2009
Genres: Christian, Historical Romance
Paperback: 306 pages
Publisher: Avon Inspire
ISBN-10: 0061373419
ISBN-13: 9780061373411