About the Book
About the Book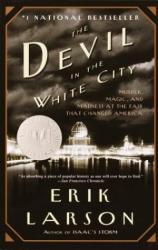 In The Devil in the White City, Erik Larson takes readers into a richly complex moment in American history, a moment that would draw together the best and worst of the Gilded Age, the grandeur and triumph of the human imagination, and the poverty, violence, and depravity that surrounded it.
The book's two most powerful figures, the great architect Daniel Burnham and the psychopathic killer, Henry H. Holmes, in many ways embody the opposing forces of the age. Burnham was responsible for building the White City, overcoming a series of crushing professional obstacles and personal tragedies to make the Fair the magical, awe-inspiring event that it was. He brought together some of the greatest architects of the day—Charles McKim, George Post, Richard Hunt, Frederick Law Olmsted, and others—convinced them of the importance of the Fair, and somehow got them to work together to achieve what many considered to be an impossible project in an astonishingly brief amount of time. Simultaneously, in the shadow of the White City, Henry H. Holmes set up his own World's Fair Hotel to take advantage of naive young single women arriving in Chicago from surrounding small towns. Using his mesmerizing charm and an uncanny ability to fend off creditors and police, Holmes bent his victims to his will and committed a series of murders as cold-blooded as any in American history.
But The Devil in the White City is about more than just two men. It is about America on the threshold of the twentieth century—a time of widespread violence, fantastic wealth, growing labor unrest, and financial panic; a time when Buffalo Bill could take a bow to Susan B. Anthony; and a time when men and women as diverse as Jane Addams, Theodore Dreiser, Thomas Edison, Samuel Gompers, and Frank Lloyd Wright—could all gaze in wonder at the magnificence of the White City.
The Devil in the White City
by Erik Larson
Publication Date: February 10, 2004
Genres: History, Nonfiction
Paperback: 447 pages
Publisher: Vintage
ISBN-10: 0375725601
ISBN-13: 9780375725609