About the Book
About the Book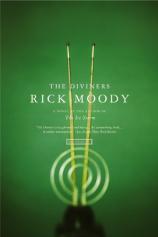 In his first novel in seven years, Rick Moody gives us a generous, hilarious, and brilliant look at contemporary America, from coast to coast. In the month after Election Day 2000, scores of movie-business strivers are focused on one goal: getting in on an elusive production that seems sure to be the Next Big Thing. It is an epic about dowsers, those miracle workers who bring water to perpetually thirsty (and hungry and love-starved) humankind. The movie-or TV miniseries, as it eventually becomes-opens with Huns sweeping through Mongolia and closes with a Mormon diviner finding water in the Las Vegas desert. A rumor-driven industry is sure that it will be the please-everyone, multigenerational, multiethnic hit of all their dreams.
Among the wannabes in pursuit of this ephemeral project: Vanessa Meandro, hot-tempered head of Means of Production, a hip New York indie film company; her harried and varied staff, including a Sikh cabdriver promoted to the office of "theory and practice of TV" and the daughter of an LA media big shot, who is hired to fetch Vanessa's Krispy Kremes and more; a bipolar bicycle messenger who makes a fateful misdelivery; two celebrity publicists, the Vanderbilt girls; a thriller writer who gives Botox parties; a word man who coined the phrase "inspired by a true story"; and a Supreme Court justice who wants to write the script. A few real artists surface in the course of Moody's rollicking and intricately woven tale, and real emotion will eventually blossom for most of Vanessa's staff at Means of Production-even for Vanessa herself.
The Diviners is a richly detailed look at the interlocking worlds of entertainment, money, politics, addiction, sex, work, and family in modern America. In this affectionate but unflinching cautionary tale about vanity, ambition, and life's unlikely paths, Rick Moody delivers a masterpiece of comedy that will bring him to a still higher level of appreciation.
The Diviners
by Rick Moody
Publication Date: January 2, 2007
Genres: Fiction
Paperback: 592 pages
Publisher: Back Bay Books
ISBN-10: 0316013277
ISBN-13: 9780316013277